This past Friday, Army veteran, Wil Bosbyshell stopped by the Veterans Bridge Home office to loan us some of his drawings and paintings to display on our walls. His exhibit is a preview of a larger veteran's exhibition to be held at the Elder Gallery of Contemporary Art in Charlotte's South End.
We loved meeting Wil and hope you will as well.
What did you do in the military?
"I served in the U.S. Army for six years as a Field Artillery Officer, holding various positions including: forward observer, fire direction center leader, executive officer, Battalion operations officer, Company Commander. My favorite assignment was serving as a test officer at the Cold Weather Test Center in Ft. Greely, Alaska."
We asked Wil how he went from artilleryman to artist, but it sounds like while he was an Army officer for a few years, he never quit being an artist.
"In kindergarten, I drew dinosaurs instead of learning his ABCs.  My teachers bribed me to study Monday through Thursday by promising to let me draw all day Friday.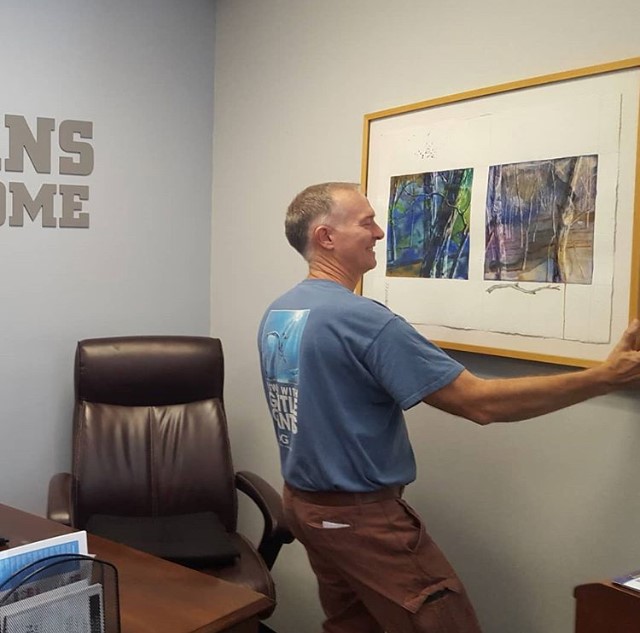 I earned a bachelor's in fine arts from the University of Georgia. Took a detour from the artist path, and served in the Army in Alaska, Oklahoma, and Georgia, and visited Canada, Germany, France, Austria, and Mexico.  The Army was good for my spirit and my adrenal gland – it was an opportunity to experience different cultures, cities, and people (as well as jump out of airplanes and helicopters).
After leaving the army, I took on another challenge.  I earned a MBA and spent several years in the insurance brokerage industry.  Finally, while living in Chicago, my creative drive caught up with me and I've been painting ever since."
Why did you move to Charlotte?
"I came here from Chicago to open a new branch of a national insurance firm."
How/if your military service has influenced your art?
"The Army gave me the travel bug. So, I paint scenes from my travels both while in the military and afterwards."
Stop by Veterans Bridge Home and see Wil's work, or keep an eye out for November's exhibition at the Elder Gallery of Contemporary Art.